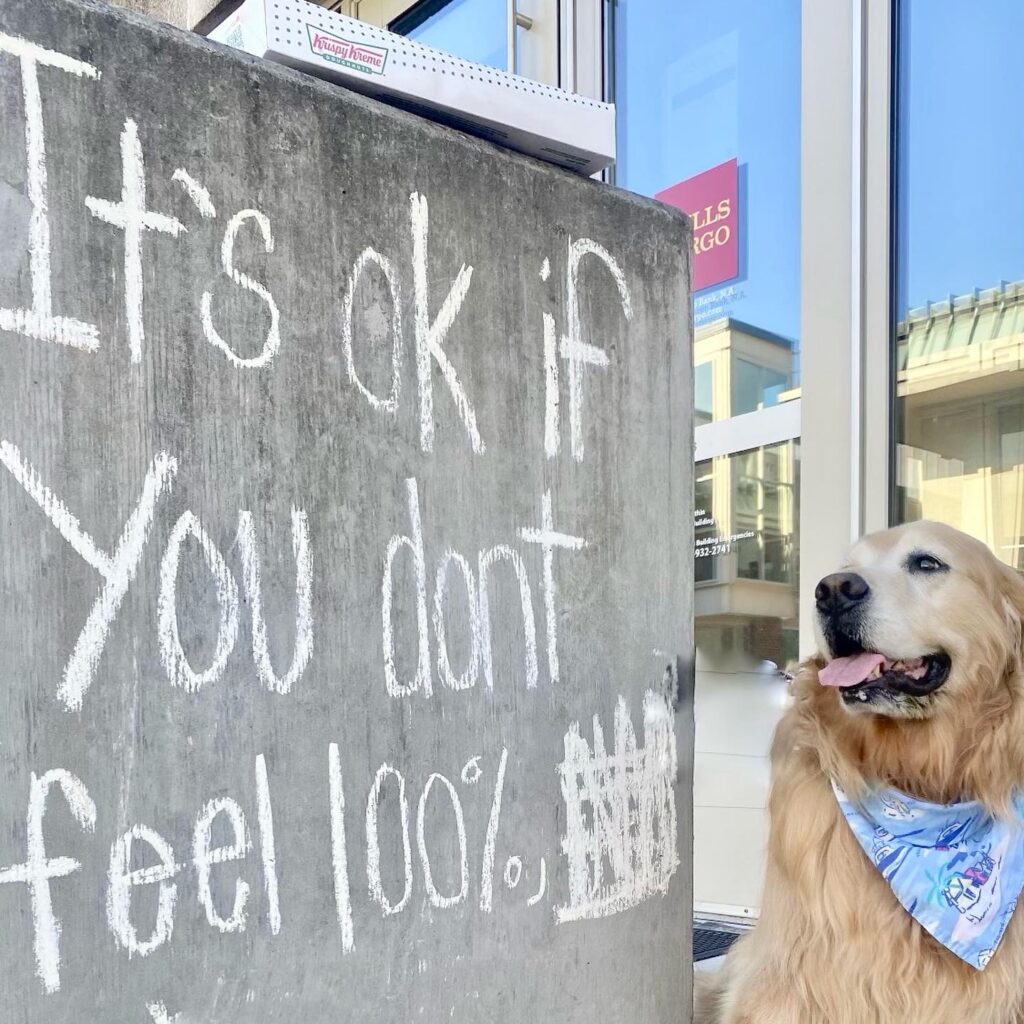 HAPPEE History

HAPPEE began at UNC Chapel Hill in mid-October 2021 after a mental health crisis among Carolina students became clear. Carolina Mom and alumna Cathy Emrick and Noel-Beth Sipe (both members of Free Mom Hugs) met for the first time while participating in a parent/community Rally for Suicide Awareness & Prevention that was held in response and included several dogs, including Cathy's Little Dog. Students asked that they return often to offer hugs and dog playtime. They readily agreed and asked around on Facebook to see if anyone wanted to join them.

In the meantime, another Carolina Mom, Michelle Young, was already walking her dog Roxy around her daughter's sorority house regularly and getting the same requests. Word got to her about Cathy and Noel-Beth's idea, and HAPPEE ("Hugs And Pups Posse Encouraging and Empowering") was born.


Little Dog

The group's private Facebook group had around 80 members by the end of the first week and began sending teams to stroll through campus starting the first week of November 2021.

Unfortunately, the mental health crisis continued as school began its spring semester. Faced with the ferocity of the coronavirus Delta wave in January 2022, we adapted by largely staying off campus but expanding our services to include more geographically and socially distant expressions of support to students, which continued even after it was safer to go back to campus. Meanwhile, by mid-spring 2022, thanks to HAPPEE volunteer Sheila Winter, the UNC student law clinic, and Zoom, we were officially the nonprofit organization "HAPPEE, Inc."

Many students throughout the year had told their parents about us. Some of the parents came to the FB group to check us out, plus word of mouth had been spreading among UNC employees and throughout the Triangle, so by the end of the spring 2023 semester, our FB "interest" group had grown to over 350 members (although not all are local or active volunteers).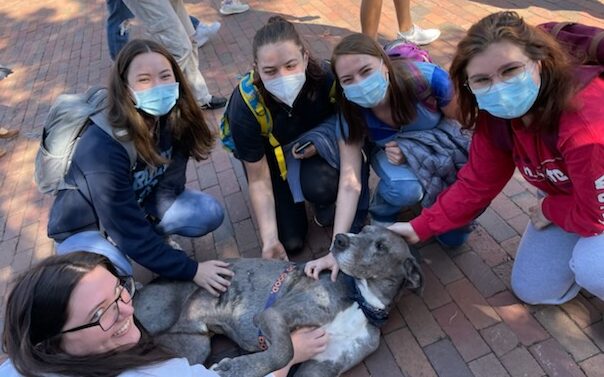 For more pictures or information on any of the following activities, please see our Events page.
HAPPEE "Strolls"

HAPPEE teams of one "Pupper" (dog owner), one dog, and one or two Huggers (sometimes with candy and/or stickers to share) hang out on the UNC-Chapel Hill campus with a handheld "Hugs & Pups" sign for about 90 minutes per "stroll". However, these days, a team actually only strolls from the parking deck to our favorite spot on campus, which is between Wilson and the Undergraduate Libraries – we call that "Blue's Corner." If more than one team is on campus at the same time, the second team is usually somewhere around the Pit, out of sight of the Blue's Corner team pup. Throughout the school year, when COVID and the weather allows, at least one team is on campus four days each week. Our best estimated weekly average is that each team on campus interacts over 300 students on each of our three weekday strolls and anywhere from 25-100 students on our weekend stroll.

Colin the Wookie

Students can come and play with a team's dog for as long as they want and are offered a hug before they leave. It is always amazing to watch the stress melt away and beaming smiles appear as they get down on the ground to pet and snuggle with the dog. We often hear about their pets and family back home. Usually at least once per team stroll, a student (male or female) who is having an extra rough day will break into tears during a long parent hug. By the end, they feel better – at least for the moment – and almost always leave smiling. Those are the most moving moments for our volunteers, many of whom have children around college age. But even those who don't still provide a tight hug, sympathetic ear, and a dog to love on, which is exactly what the students hope for and expect from us.

Willow

During the 2022-2023 school year, even though we took a break from strolling in spring 2023 (thanks to Omicron), we had 140 Hugs and Pups teams on campus for 107 strolls – which equals approximately 285 volunteer shifts of ~2.5 hours each. Our volunteers are AMAZING! And absolutely committed to being there for Carolina students throughout the school year.

For more stroll pictures, see our Events page.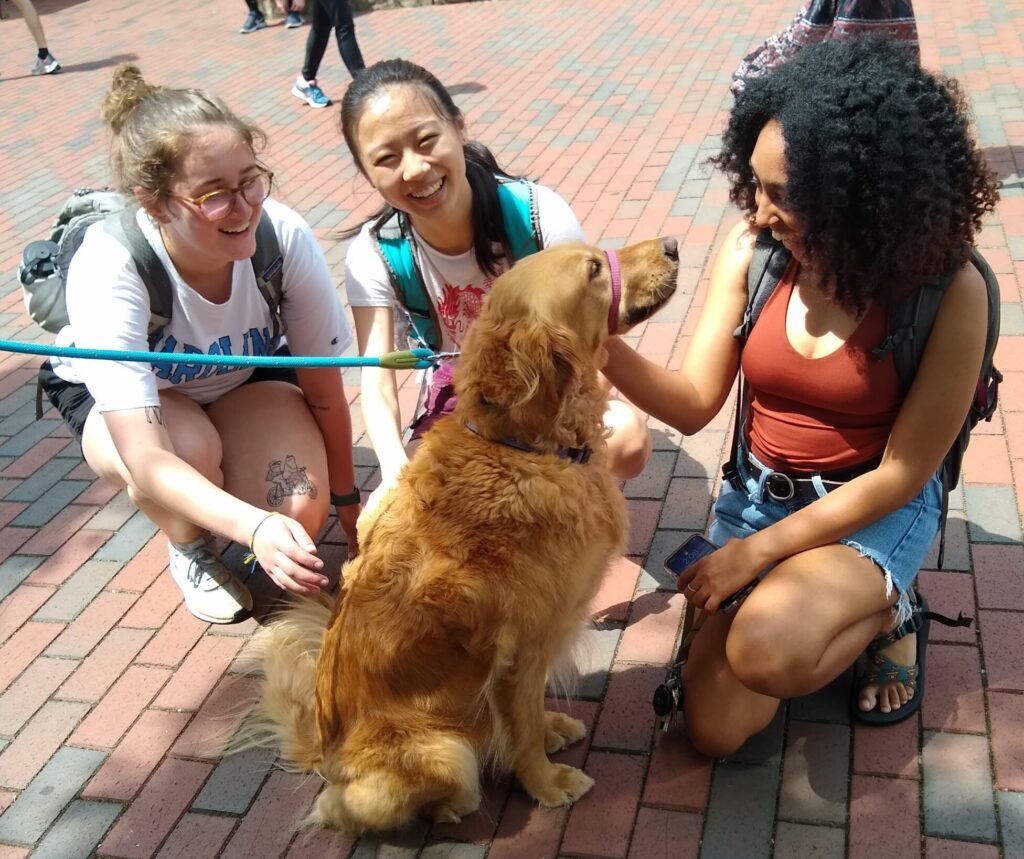 Other HAPPEE Activities

COVID forced us to find new ways to connect with and provide emotional support to Carolina students when it is unsafe for volunteers and students both to engage in so many hugs, even though our volunteers are wearing KN95 masks. We have an Infectious Disease doctor who serves as our consultant so that we can feel confident that we are not risking students' well-being, grades, and mental health by exposing them to COVID. When Dr. Wohl tells us that we shouldn't hug 100-200 students in one day without wearing a KN95 mask, we mask up! And that is indeed what he continues to say. We find ways to provide support for the students while keeping them safe even when COVID is especially pesky. For example, on Valentine's Day 2022, we had a Puppy (Car) Parade through campus, complete with decorated cars, bags of candy thrown to nearby students, and panting dog heads hanging out of car windows. In Spring 2023, thanks to our generous donors, we were able to temporarily replace our Hugs & Pups strolls with weekly Special Events, where students are generally too distracted to miss our Hugs.

One of our favorite things to do is leave little love notes around campus for students. Before students return from any kind of school break, HAPPEE volunteers will often write supportive messages in chalk around campus to welcome them back. We also paint rocks with fun and/or inspirational messages to leave all around campus for students to find throughout the semester. Especially during exam weeks, those rocks disappear fast! We love hearing stories about how students took them home to support their positive self-talk. We replenish them as often as we can throughout the semester and put out a total of over 800 painted rocks during the 2021-2023 school years.

Another student favorite is each semester's online DOGGO Bingo cards, on which students can electronically check off boxes (with a Carolina blue pawprint) when they see the pictured dog or other HAPPEE-related item, with small prize bags for all who show us a card with Bingo.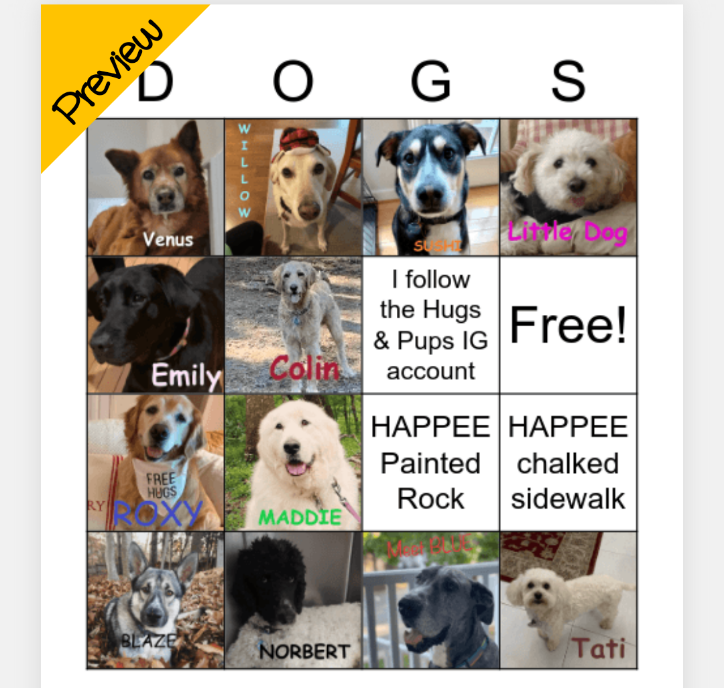 You may find us at:
UNC-Chapel Hill
Chapel Hill, NC