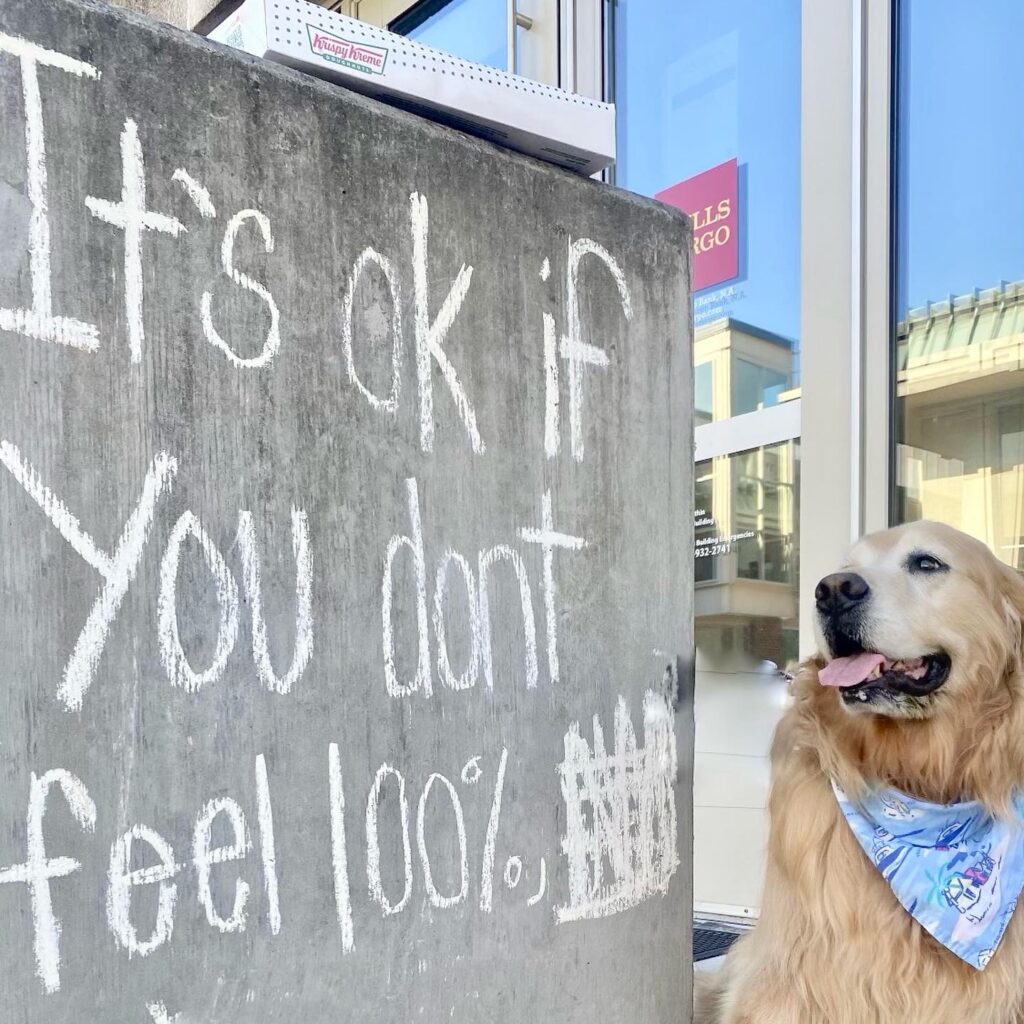 HAPPEE History

HAPPEE began at UNC Chapel Hill in mid-October 2021 after a mental health crisis among Carolina students became clear. Carolina Mom and alumna Cathy Emrick and Noel-Beth Sipe (both members of Free Mom Hugs) met for the first time while participating in a parent/community Rally for Suicide Awareness & Prevention that was held in response and included several dogs, including Cathy's Little Dog. Students asked that they return often to offer hugs and dog playtime. They readily agreed and asked around on Facebook to see if anyone wanted to join them.

In the meantime, another Carolina Mom, Michelle Young, was already walking her dog Roxy around her daughter's sorority house regularly and getting the same requests. Word got to her about Cathy and Noel-Beth's idea, and HAPPEE ("Hugs and Pups Posse Encouraging and Empowering") was born.


Little Dog

The group's private Facebook group had around 80 members by the end of the first week and began sending teams to stroll through campus starting the first week of November 2021.

Unfortunately, the mental health crisis continued as school began its spring semester. Faced with the ferocity of the coronavirus Omicron wave in January 2022, we adapted by largely staying off campus but expanding our services to include more geographically and socially distant expressions of support to students, which will continue regardless of the state of the pandemic. Meanwhile, by mid-spring, thanks to HAPPEE volunteer Sheila Winter, the UNC student law clinic, and Zoom, we were officially a nonprofit organization, "HAPPEE, Inc."

Many students throughout the year had told their parents about us. Some of the parents came to the FB group to check us out, so by the end of the spring 2022 semester, we had grown to around 275 members (although not all are local or active volunteers), and around 25 different dogs had gone to UNC's campus as part of a Hugs and Pups team. All this in our first seven months – whew! Stick around to see what happens next year.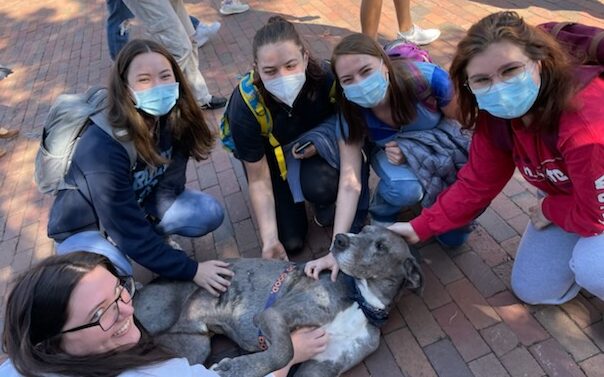 For more pictures of any of the following activities, please see our Events page.
2021-2022 HAPPEE Strolls

HAPPEE teams of one "Pupper" or dog owner, one dog, and one or two Huggers (sometimes with candy to share!) "stroll" for an hour or two on the UNC-Chapel Hill campus with a handheld "Hugs & Pups" sign. We don't actually stroll very far; we always have one team near or in the Pit and, if more than one team is on campus, another team is somewhere around the Quad. We generally just find someplace that is visible and comfortable for us and the dog and then the students come to us. Throughout the school year, when the COVID pandemic allowed, at least one team was on campus three days each week. Our best estimated weekly average is that each team on campus interacted with 300 or more students on each of our two weekday strolls and anywhere from 25-100 students on our weekend stroll.

Colin the Wookie

Students can come and play with a team's dog for as long as they want and are offered a "parent hug" before they leave. It is always amazing to watch the stress melt away and beaming smiles appear as they get down on the ground to pet and snuggle with the dog. We often hear about their pets and family back home. Usually at least once per team stroll, a student (male or female) who is having an extra rough day will break into tears during a long parent hug. By the end, they feel better – at least for the moment – and almost always leave smiling. Those are the most moving moments for our volunteers, most of whom have children around college age and so have a better understanding than most of the students' emotional struggles. But even those who don't still provide a tight hug, sympathetic ear, and a dog to love on, which is what the students hope for and expect from us. Invariably, as they leave, all of the students sincerely thank us for coming to campus for them and bringing a dog as well.

Willow

Many students watch for our announcements on social media to see when and where we will be and then plan their day around finding us. After hearing of one student's disappointment at not finding a team in March 2022, we researched and found a solution – one member of each Hugs & Pups team now logs on to a phone app called Glympse with the team dog's name and picture when they arrive on campus. We post a link to the dog's Glympse on all of our social media. Anyone who has the link can track the team in real time, to see where they are on campus at any given moment. We've even had a student race down to catch Blue the Great Dane's team as they were about to get into their car to leave campus. The link expires and tracking is no longer active when we leave campus, so it's a great and safe way to connect with the students during our strolls.

For more stroll pictures, see our Events page.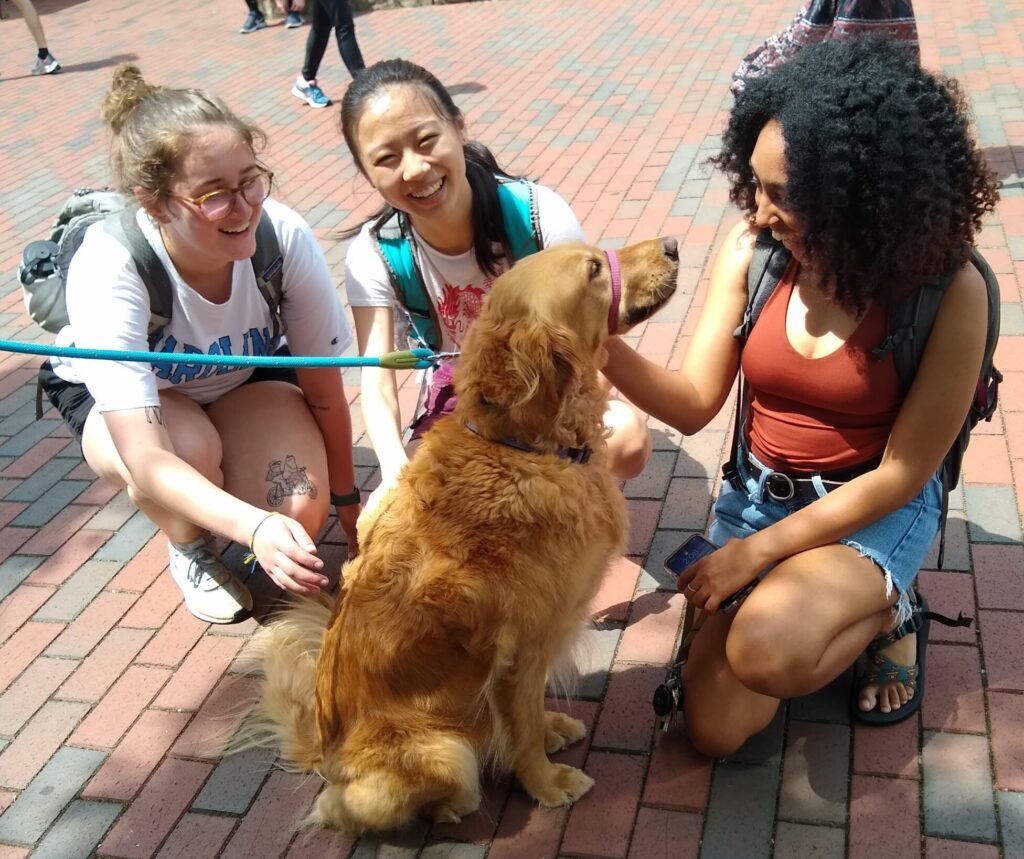 Other 2021-2022 HAPPEE Activities

Beginning in January 2022, COVID forced us to find new ways to connect with and provide emotional support to Carolina students. On Valentine's Day, we had a Puppy (Car) Parade through campus, complete with decorated cars, bags of candy thrown to nearby students, and panting dog heads hanging out of car windows. We had publicized our route beforehand (and cleared it with the local police) and knew that the traffic at that time of day would be heavy enough that we'd have plenty of time to be seen and throw candy. We didn't factor the disruptive nature of stoplights into the plan, so we ended up splintering almost immediately, but that was OK – in fact, it was actually even more fun, since we were several places on campus at once and therefore able to reach more students while we were there.

The day before students returned from Winter and Spring Breaks, HAPPEE volunteers wrote supportive messages in chalk around campus to welcome them back. For nearly a week after, we saw and heard about student posts with pictures of our artwork popping up on Instagram and Snapchat, so we know they noticed! When it finally rained, we were sad but more committed than ever to do it again at the next opportunity.

We also painted rocks with fun and/or inspirational messages and gave them to students that we knew to leave all around campus for other students to find. Anyone who posted a picture of a found rock on Instagram and tagged us got a small prize bag. Not as many people tagged us as we'd expected, but the posts we saw were heart-warming, plus we heard reports from campus that the rocks disappeared quickly. We replenished them as often as we could throughout the semester. In early May, we met a student who realized we'd left the painted rocks. She told us that she had one on a shelf in her dorm room and had read it aloud to herself that morning to help her get through finals. There are a couple of hundred (or more – we really should've counted!) other rocks that are currently encouraging other Carolina students too.

We had several different social media (primarily Instagram – @HAPPEE.natl) campaigns and contests going throughout the spring with small HAPPEE- and dog-themed prize bags. For example, in addition to the painted rock Instagram contest, we had "Then and Now" posts for HAPPEE Pups so the students could see the adult dogs they'd come to love in all of their puppy glory. Over Winter Break, a Holiday Pupalooza showed a different dog each day getting ready for Christmas. Wednesdays are Mental Health days on our Instagram account, with tips and resources for stressed-out students.

In March 2021, when we came back to campus in person (all volunteers vaxxed, boosted, and wearing KN95 masks), we created a DOGGO Bingo game, in which students could electronically check off boxes (with a Carolina blue paw) when they saw the pictured dog or other HAPPEE-related item, with additional prize bags. Thanks to Glympse, students could see if a dog they still needed on their DOGGO card was on campus and if so, where.

As the semester drew to a close and word of our presence on campus continued to spread, we began to send a team or two to a specific dorm, sorority, or end-of-year departmental party on campus in response to requests from campus.

Finally, on the first day of spring finals, we partnered with a student group, the Mental Health Ambassadors, to do our very first stations activity. A volunteer therapist taught (or reminded) students who approached our tables how to use the 5-4-3-2-1 mindfulness strategy and then gave them a paper lunch bag with a small printout with the directions. The tables held stations with items they could put in their bag to use with each sense to create their own Mindfulness Starter Kit. Adult and student volunteers were present to help explain the stations and items, just chat a bit, and offer hugs. Blue the Great Dane was nearby in the Pit that afternoon, where his team was telling students to come find us in the Quad. We ran out of paper bags after 125 students came through, but others used their backpacks or just took some candy and hung out for awhile. Most of the students had never used this particular strategy and were grateful to learn it just in time for finals. We will definitely have more stations activities, likely including a repeat of this one, in the future.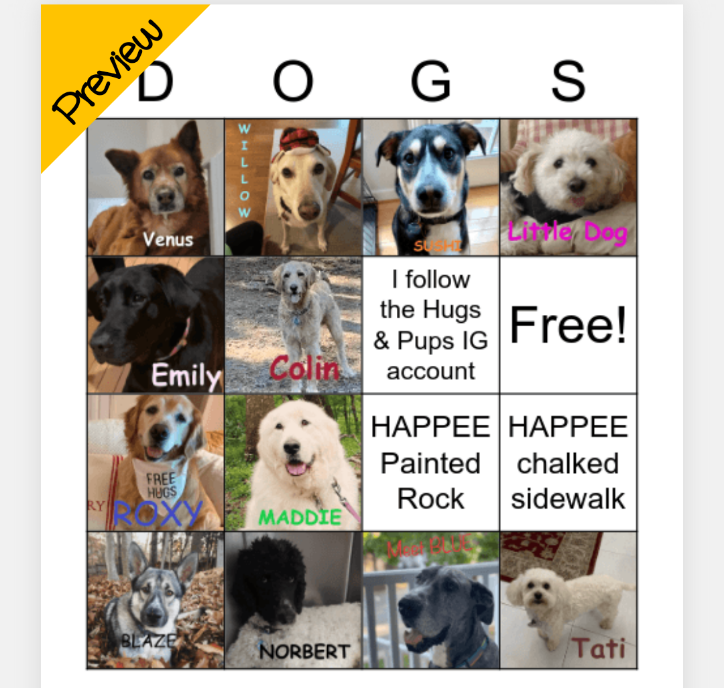 You may find us at:
UNC-Chapel Hill
Chapel Hill, NC